Nestled in the northeastern region of Catalonia, Spain, Girona stands as a testament to a rich history and vibrant culture that has spanned centuries.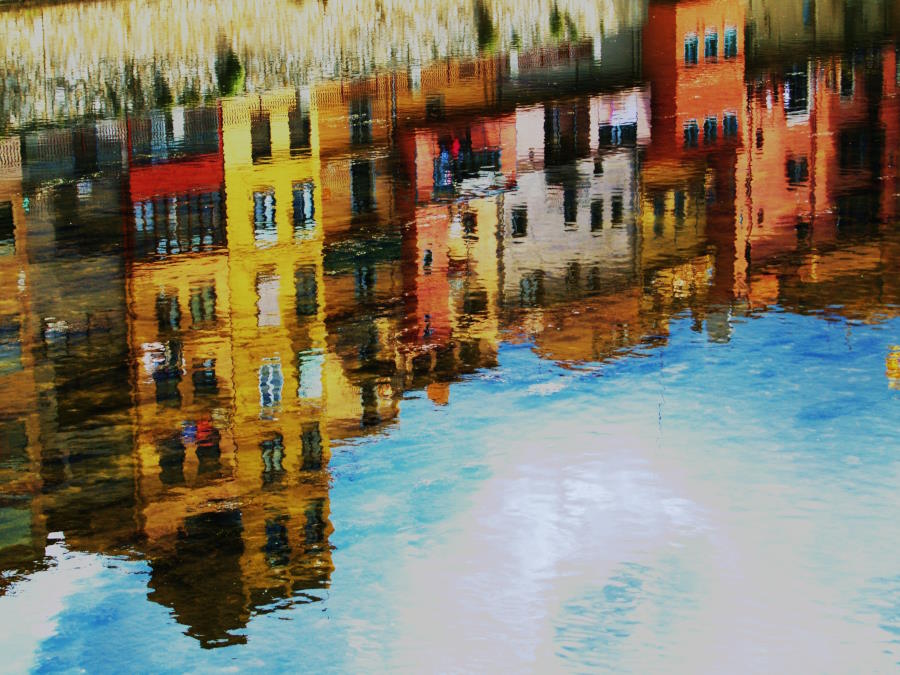 It is beautifully situated between majestic mountains and enchanting coastal sites. Girona is not only captivating but also full of surprises. Visitors can delve into one of the most significant Jewish quarters globally and marvel at architectural masterpieces like its cathedral and basilica. Adding to Girona's allure, it served as a filming location for the sixth season of "Game of Thrones." Moreover, for those with a penchant for culinary delights, the city is home to one of the world's best restaurants, El Celler de Can Roca. With the majestic Onyar River cutting through its heart, this city offers a unique blend of ancient charm and modern amenities. Its strategic location, just a short distance from both the Mediterranean Sea and the Pyrenees Mountains, makes it an enticing destination for both real estate investors and tourists seeking an authentic Catalan experience.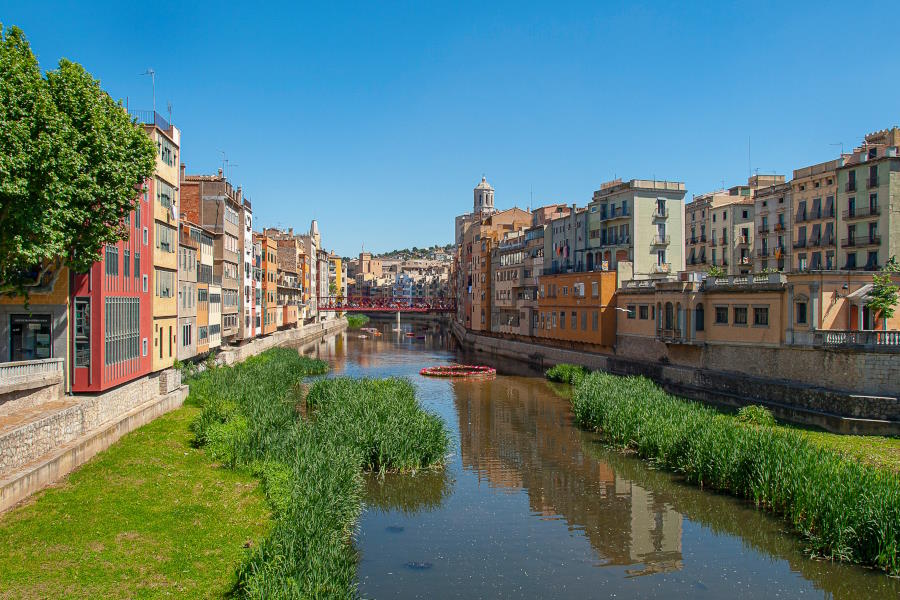 Historic Overview
Girona's history is as colorful as the facades of its riverside houses. Founded by the Romans in the 1st century BC, the city has seen a myriad of civilizations come and go, each leaving their mark. The Visigoths, Moors, and Jews have all played pivotal roles in shaping Girona's past. The city's Jewish Quarter, one of the best-preserved in Europe, stands as a silent witness to a thriving community that once called Girona home. Moreover, throughout the Middle Ages, Girona stood resilient against numerous sieges, earning its title as the "City of a Thousand Sieges."
Cultural Patrimony
Girona's cultural heritage is vast and varied. From its renowned annual Temps de Flors flower festival to the rich traditions of Catalan folklore, the city is a hub of cultural activity. Its museums, such as the Museum of Jewish History and the Archaeology Museum of Catalonia, offer deep dives into its diverse past. The Girona Cathedral, with its impressive Gothic architecture and the widest Gothic nave in the world, is not just a religious site but also a cultural landmark, symbolizing Girona's enduring spirit and architectural prowess.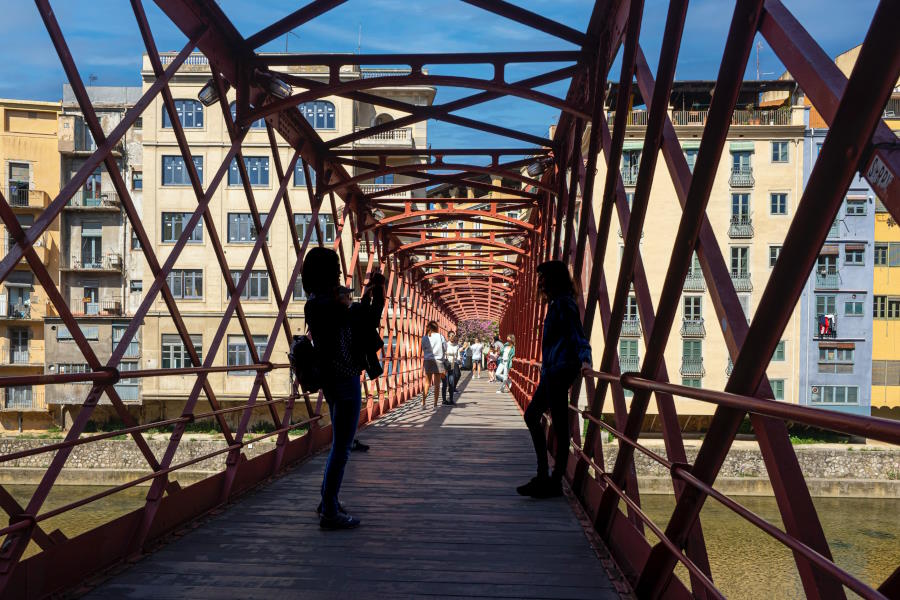 Top Sites
A visit to Girona would be incomplete without exploring its top sites:
•
The Old Town
: Wander through narrow cobblestone streets and discover medieval architecture, charming plazas, and hidden courtyards.
•
Eiffel Bridge
: Built by Gustave Eiffel before the Eiffel Tower, this iron bridge offers a panoramic view of the city's colorful houses lining the Onyar River.
•
The City Walls
: Originally built by the Romans and later expanded by the Carolingians, walking atop these walls provides a bird's-eye view of the city and its surroundings.
•
Arab Baths
: A Romanesque construction inspired by Roman baths, it's a glimpse into the Moorish influence on the city.
Go Take A Walk
The timeless allure of Girona, with its rich historical lineage, is undeniable. As you prepare to step into this city, imagine a tapestry of colorful houses overlooking the Onyar River, the whispers of the Jewish quarter, the majesty of its Cathedral, the stoic presence of its walls, and other enchanting sights that await you.
•
Getting Started
: Girona's beauty lies in exploring it on foot. Begin your journey by parking your car at the Avinguda de França, which serves as the gateway to the city, and is conveniently located near the Onyar River. As you tread along its right bank, you'll be treated to a view of the vibrant houses, a testament to the city's medieval legacy, such as the iconic Casa Masó.
•
Crossing Over
: Your path will lead you across several bridges like the Pedret, Sant Feliu, and the iron-red Peixateries Velles bridge, designed by the renowned Gustave Eiffel. Each step offers a new perspective of Girona's colorful riverfront residences.
•
The Jewish Quarter - El Call
: Venture deeper into Girona's heart by crossing the Peixateries Velles bridge. Here, the city's Jewish history unravels in the form of El Call, one of Spain's most extensive and best-preserved Jewish quarters. Wander through streets like La Força and Sant Domènec, and lose yourself in its winding alleys. An essential stop is the former synagogue, which now houses the Museum of the History of the Jews of Girona. If time permits, consider joining a guided tour to unearth the secrets of this captivating neighborhood.
•
Girona's Cathedral
: A majestic flight of nearly 100 baroque steps beckons you to Girona's Cathedral. As you approach it from the Jewish quarter via Clavería street, the Cathedral stands tall, epitomizing baroque grandeur. Inside, for a fee, you can explore its treasures with an audioguide.
•
Monasterio de Sant Pere de Galligants
: A short walk leads to this Benedictine monastery, a gem of Catalan Romanesque architecture. The serene cloister, adorned with intricate carvings, offers a tranquil respite.
•
The Walls of Girona
: Girona's storied past is evident in its walls, which have withstood sieges from various invaders over the centuries. From the Monastery, make your way to the Gironella tower, then to the towering Sant Domènec, offering panoramic city views. The descent along Portal Nou street will guide you back to the city's heart.
•
Rambla de la Llibertat
: Conclude your journey at the bustling Rambla de la Llibertat. This lively street, parallel to the Onyar River, bustles with shops, eateries, and the spirit of Girona. The cobblestone paths, medieval arches, and historic stones invite you to take a leisurely pace and savor the city's offerings.
Whether you have a day or a weekend, Girona promises a journey through time, beauty, and charm.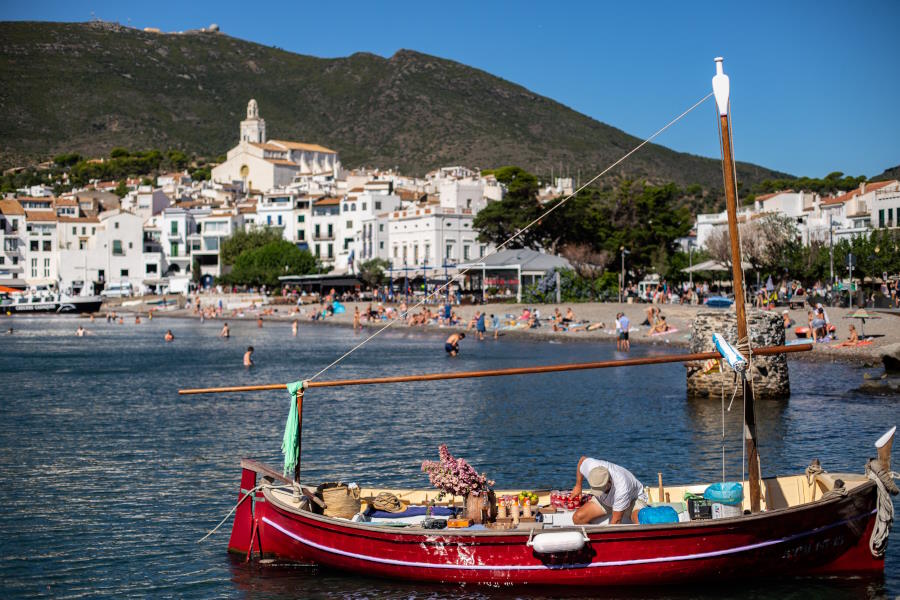 Places of Interest Near Girona City
1. Figueres
: Located in the province of Girona, Figueres is renowned as the birthplace of the legendary artist Salvador Dalí. The highlight of the town is the Teatro-Museo Dalí, a unique architectural masterpiece that captivates visitors with its magical ambiance. The town also boasts a rich history, with attractions such as the Castell de Sant Ferran complementing a day's visit.
2. Cadaqués
: Renowned as one of the most picturesque towns not only in Girona but also in the world, Cadaqués is a must-visit on the Costa Brava. Its white-washed houses, stunning landscapes, and artistic heritage, partly influenced by Salvador Dalí, make it a top attraction.
3. Calella de Palafrugell
: A favorite among locals, this small fishing village is known for its pristine beaches like El Golfet and Port Bo. The town's viewpoints offer breathtaking panoramas of its historic center, epitomizing the beauty of the Girona coastline.
4. Peratallada
: Located in the Baix Empordà region, Peratallada is a charming medieval village that mesmerizes visitors with its cobblestone streets and historic ambiance. The Portal de la Virgen serves as the town's main entrance, leading to a world of timeless allure.
5. Pals
: Another gem in the Baix Empordà, Pals boasts a well-preserved medieval character. Divided into two main areas, the ancient town center and its beaches, it caters to both history enthusiasts and beach lovers.
6. Begur
: Famous for its beaches and coves, especially Aiguablava, Begur is a coastal paradise. The town's old quarter is dominated by a historic castle, and it hosts notable events like the Fira del Indians, celebrating its cultural heritage.
7. Tossa de Mar
: Known as the most romantic town on the Costa Brava, Tossa de Mar is characterized by its 12th-century castle and serene beaches. The town's Platja Gran was recognized by National Geographic as one of the world's most beautiful beaches.
8. Peralada
: A medieval town in the Baix Empordà, Peralada is famous for its castle, a major tourist attraction. The town traces its roots back to an ancient Iberian settlement from 500 B.C.
9. Besalú
: A hilltop medieval town, Besalú is known for its iconic Romanesque bridge and Jewish quarter. Declared a Historic-Artistic National Site, it's a testament to the region's rich architectural legacy.
10. Castellfollit de la Roca
: Part of the Natural Park of the Volcanic Zone of La Garrotxa, this town stands out for its houses perched atop a basalt cliff, offering dramatic views of the surrounding landscape.
11. Puigcerdà
: The capital of the Cerdanya region, Puigcerdà is notable for its beautiful old town and the iconic Lake Puigcerdà, a popular spot for relaxation and recreation.
12. Camprodón
: A picturesque town in Girona, Camprodón offers a mix of medieval charm and natural beauty. Its Pont Nou bridge and surrounding mountain trails make it a haven for history buffs and hikers alike.
13. Roses
: A bustling city on the Costa Brava, Roses is known for its serene beaches, historic citadel, and vibrant atmosphere, making it a perfect destination for a relaxed getaway.
14. Castelló d'Empúries
: A town of historical significance, Castelló d'Empúries offers a blend of medieval charm and coastal beauty. Empuriabrava, its modern marina, is known as Europe's largest residential marina.
15. Port de la Selva
: A tranquil town in the Alt Empordà, it's renowned for its serene beaches and the Monestir de Sant Pere de Rodes, a significant monastic complex in Catalonia.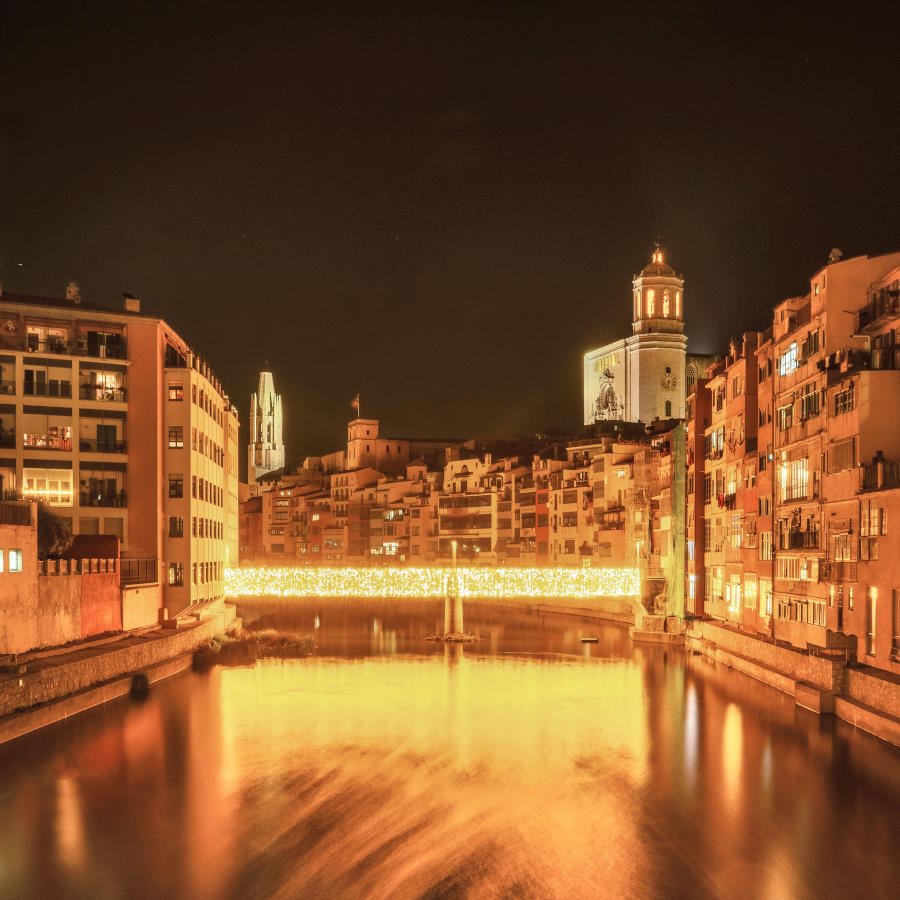 Services
Girona is not just a city steeped in history; it's a city that caters to the needs of its residents and visitors alike. With a modern transportation system, including a high-speed train connecting it to Barcelona and the rest of Europe, accessibility is a breeze. For potential homeowners, the real estate market offers a range of options from historic homes in the Old Town to modern apartments overlooking the river. Tourists can indulge in a variety of accommodations, from luxury hotels to quaint bed and breakfasts. Girona also boasts world-class restaurants, including the famed El Celler de Can Roca, shopping centers, and recreational facilities, ensuring that every visitor's needs are met.
Girona is a city that promises a journey through time, a celebration of culture, and modern-day comforts, making it a top destination for travel enthusiasts and potential homeowners alike.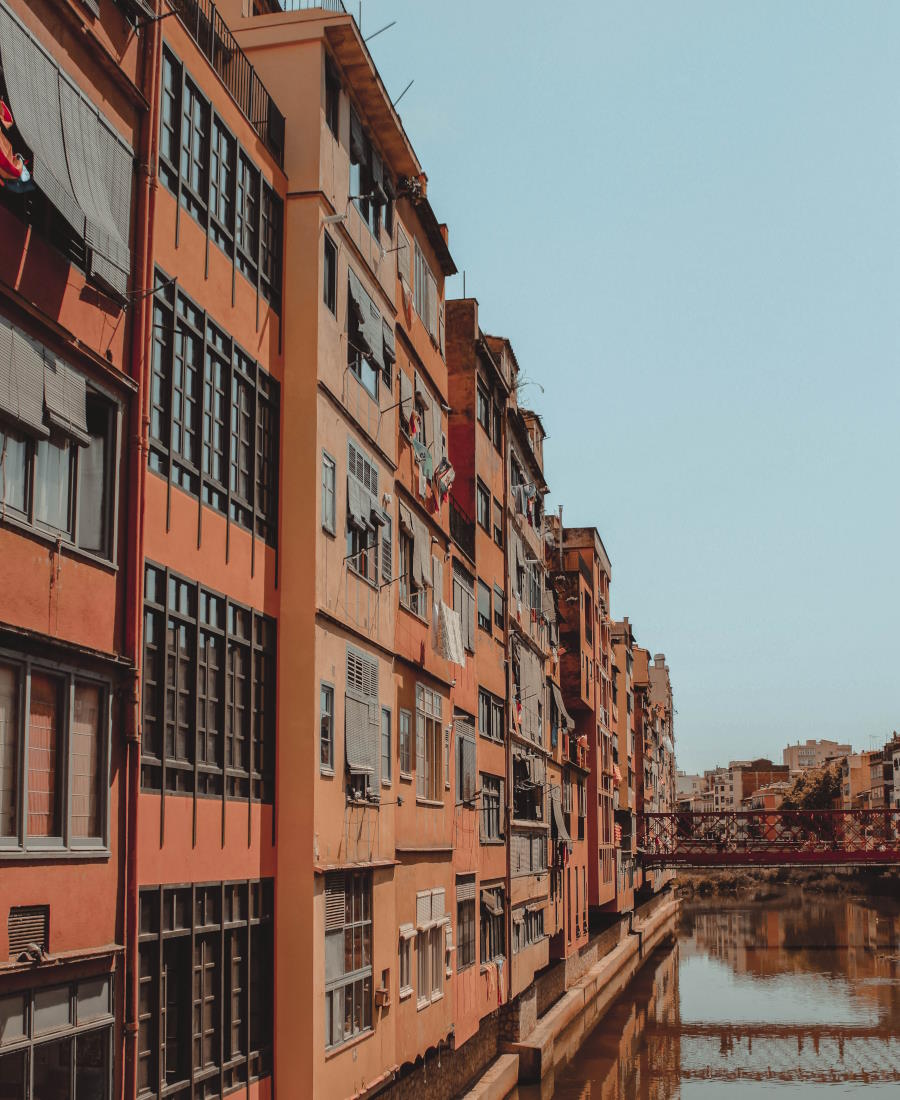 Girona Real Estate Overview - September 2023
Girona, a city rich in history and located in Catalonia, has been the focal point of numerous property market discussions, especially post the coronavirus pandemic. Potential buyers are riddled with questions on the future trajectory of the real estate market following the pandemic's aftermath.
Historical Perspective
: Before the onset of this global crisis, the Girona real estate market showcased a promising outlook. The sector had completely healed itself, and property buying and selling trends were on the rise. Contrary to many sectors that suffered massive economic setbacks due to Covid-19, the real estate sector in Girona remained resilient. Prices held steady, and transaction cancellations remained minimal.
Current Market Situation
: As of September 2023, the average price per square meter (€/m2) in Girona is 2,418 €/m2. This signifies an increase of 1.7% from August 2023 and a commendable rise of 7.4% compared to September 2022. The primary residence market is expected to remain stable, while the domestic demand for second homes may witness a slight decline. However, in such scenarios, foreign demand often steps in, balancing the market.
Neighborhood Price Insights
:
1. Barri Vell: A historical part of Girona, the average price stands at 3,642 €/m2, a slight decrease of 0.4% from the previous month. The highest recorded price in this area was 3,807 €/m2 in October 2021.


2. Eixample: Known for its urban layout, the price is 2,932 €/m2 with a decline of 0.8% over the last month.


3. Migdia Casernes: The area sees a price of 2,583 €/m2, marking a 0.5% increase from the previous month.


4. Montilivi-Pericot: Valued at 2,484 €/m2, this region witnessed a 3.2% decrease in the past month.


5. Palau: Standing at 2,553 €/m2, the prices in Palau have decreased by 1.0% over the last month.


6. Sant Narcís: One of the more affordable areas, with an average price of 1,715 €/m2.


7. Santa Eugenia: Another affordable region at 1,373 €/m2, it has seen a significant decrease of 4.2% from the previous month.
Broader Catalonia Context
: Interestingly, the impact of the pandemic on property prices hasn't been consistent across Spain. In Catalonia, property prices plummeted by up to 22.5% due to factors such as an increase in unemployment rates, losses in tourism, and reliance on foreign demand. Lleida and Girona specifically witnessed significant drops in second-hand property prices, with declines of 22.5% and 17.9% respectively. This suggests a simultaneous reduction in demand and an increase in property listings in these Catalan provinces.
Opportunities in Girona
: For Girona, this disparity between demand and supply can be viewed as an advantageous situation. Prices are predicted to continue their downward trend in the coming months. This presents an ideal opportunity for those who have remained financially stable during the pandemic to consider relocating. With an extensive property listing and significant price cuts, potential buyers can aim for their desired apartment types in their preferred residential areas. For those eyeing the new construction sector, prices are expected to stabilize by the end of the year.
For those considering purchasing property in the province, either as a primary residence or for rental income, it's imperative to keep a close watch on the real estate offers available in the market.
---
Promote your business in the domestic and international market
UrbaMarkt is an international marketing portal dedicated to bringing national and international buyers together with local professionals, increasing the possibilities of exposing their products and experiences to customers anywhere in the world.

---