Nestled along the shimmering banks of the Douro River, Porto, Portugal's second-largest city, has that magical combination of Big Town-Small City vibe that captivates expats and tourists alike with its irresistible blend of historic melancholia, alternative multicultural scene, and warm colorful people.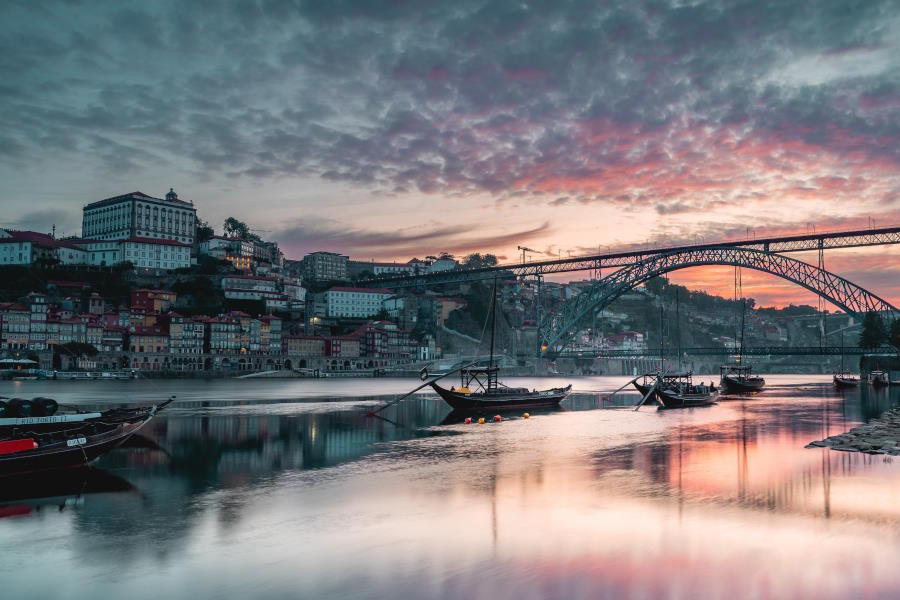 Renowned for its rich heritage, delectable cuisine, and world-famous port wine, Porto has earned its place as one of Europe's most sought-after destinations. In fact, Porto's allure was globally acknowledged when it was crowned the World's Leading City Destination in 2022 at the prestigious World Travel Awards ceremony in Muscat, Oman. Porto clinched this prestigious title in the face of fierce competition, surpassing renowned destinations from around the world. This recognition is a testament to Porto's enduring charm and its ability to captivate the hearts of travelers from every corner of the globe.
Whether you're strolling through its historic streets, savoring the flavors of its traditional dishes, or simply sipping wine while watching the sunset over the iconic Dom Luís I Bridge, Porto is a city that leaves an indelible mark on the souls of all who wander its charming streets. Discover the enchantment of Porto, where the past meets the present, and every moment is an opportunity for adventure and discovery.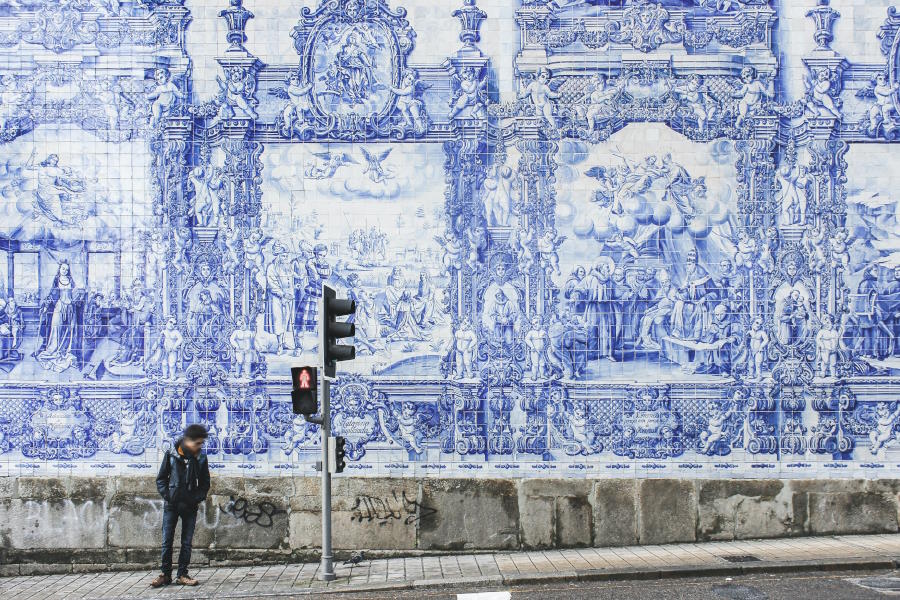 A Chronological Tale
Often referred to as "A Cidade Invicta," or "The Unvanquished City", Porto holds a unique place in Portuguese history and culture. This title, "The Unvanquished," was not bestowed lightly; it emerged from a rich tapestry of historical events and the indomitable spirit of its inhabitants.
Porto's origins date back to prehistoric times, with early settlements in the surrounding areas. The proto-historic settlement, which would become Porto, emerged around Sé hill in the 4th-3rd centuries BCE. It had Roman ties and expanded to become an economic hub.
In the medieval period, Porto grew in importance, leading to the County of Portucale. Back in 1111, Teresa de Leão, mother of the future first king of Portugal, granted Bishop D. Hugo the couto (charter) of Porto. Afterwards Afonso Henriques, Teresa's son, founded the Kingdom of Portugal. The city's diocese was reinstated, and Porto became a commercial and maritime center.
Artistic and urban renewal occurred, influenced by foreign residents and figures like Nicolau Nasoni. Baroque and Rococo styles thrived. Public works and urban interventions transformed the city in the 18th century.
Over the centuries, Porto further distinguished itself with valorous deeds, leading to the accolades of "Ancient, Most Noble, Always Loyal, and Unvanquished". Such as the French Invasions that brought turmoil, but Porto resisted and recovered.
The Liberal Era saw Porto play a key role in political changes, leading to the establishment of the Portuguese Republic in 1910.
Urban expansion, industrialization, and transportation developments marked the late 19th and early 20th centuries. The city's growth led to the construction of landmarks like the Palácio de Cristal.
The Republic's establishment in 1910 faced challenges, but the city evolved. The Estado Novo regime in the mid-20th century triggered protests and eventual political change.
The Carnation Revolution of 1974 brought joy to Porto. Efforts to preserve the historic city led to its recognition as a UNESCO World Heritage site in 1996.
In 2001, Porto officially became the European City of Culture, hosting the inauguration ceremony at the Coliseu do Porto. The event drew dignitaries, including a European Monarchy such as Queen Beatrix of the Netherlands and then Portuguese president, Jorge Sampaio. Porto's cultural prominence extended throughout the year, promoting the democratization of culture in the city. The opening program featured a short film and a musical performance, setting the tone for the year's cultural events. Additionally, an exhibition titled "In the Rough" kicked off at the Serralves Museum, displaying art from Rotterdam, which shared the European Capital of Culture title with Porto that year. Porto 2001 left a lasting legacy, transforming the city into a dynamic cultural hub.
Porto's rich history, from its ancient origins to its modern cultural significance, is a testament to its enduring legacy.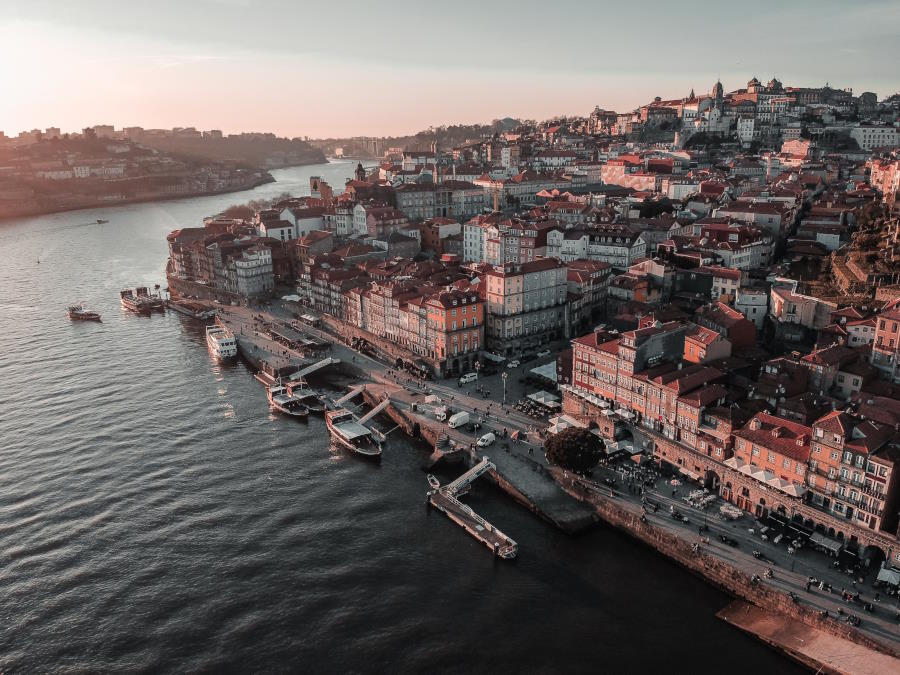 A Walk in The Invicta
Embark on a captivating journey through Porto, a city that holds an enchanting mystique known to vary with every location, the time of day, and the interplay of light. This ethereal quality is undoubtedly rooted in its warm-hearted and generous inhabitants, as well as the timeless allure of the Douro River and the cultural tapestry woven into both of its shores. Porto's historic heart, a UNESCO World Heritage site, and the picturesque Douro River banks, home to the renowned port wine cellars on the Gaia side, beckon travelers with their timeless beauty.
Begin your odyssey at São Bento Station, where an iconic tiled vestibule welcomes you to one of the world's most beautiful train stations. Just a short stroll away, the cathedral unveils your first panoramic vista of the river, the quaint houses, and the opposite bank. Wandering down medieval streets and winding staircases, you'll arrive at A Ribeira, a charming neighborhood adorned with terraces and inviting corners to savor local flavors. Before embarking on a scenic cruise beneath Porto's iconic six bridges, pause to soak in the ambiance and the essence of the river, with the majestic D. Luís Bridge and the opposite bank gracing your view.
After admiring the silhouette of houses and church spires from the river, venture into the gilded interior of the Church of São Francisco. Nearby, more churches and monuments await, adorned with intricate azulejos on their facades, while the stunning Palácio da Bolsa invites exploration. Returning from the river, hop aboard the tram for a picturesque journey to Foz, where leisurely strolls and the invigorating sea breeze await. From here, Av. da Boavista beckons. In close proximity lies Serralves, boasting serene gardens for tranquil walks and renowned contemporary art exhibitions. Designed by Álvaro Siza Vieira, a Pritzker Prize laureate and one of Porto's foremost architects, the museum itself is a masterpiece.
Adjacent to the Rotunda da Boavista stands Casa da Música, an architectural marvel offering a rich cultural tapestry. The surrounding area presents excellent shopping opportunities, with further delights along Av. dos Aliados. Along your journey, you'll encounter the enchanting gardens of the Palácio de Cristal, affording yet another panoramic perspective of the river, and the Soares dos Reis Museum. Another gem, adorned with captivating sculptures, is Cordoaria, enveloped by historic churches and monuments. Ascend the Clérigos Tower to savor perhaps the most awe-inspiring panoramic view of Porto. Continue your explorations on foot, passing modernist treasures like The Rivoli Theater and vibrant shops. Following an immersive experience on this grand avenue, venture to the pedestrian haven of Rua de Santa Catarina for a shopping extravaganza. A moment of reprieve finds its ideal setting at the historic Café Majestic.
Don't forget to venture across the Douro River's southern bank to explore the port wine cellars and savor this renowned wine in its unique ambiance. Departing from Ribeira, cross the D. Luís Bridge and relish one of Porto's most breathtaking vistas from the southern shore. Alternatively, ascend and descend the Gaia cable car, providing an entirely new perspective from this side of the river.
In the realm of gastronomy, the Gaia waterfront presents enticing options, yet Ribeira and Foz also abound with diverse restaurants and terraces, all framed by stunning sea views. Portugal has a well-deserved reputation for culinary excellence, but it's in Porto and the northern region that this reputation reaches its zenith. Whether you choose to dine in an elegant restaurant or a cherished traditional establishment, prepare for a culinary journey complemented by the exquisite wines of the Douro region or the refreshing Vinho Verde, a true hallmark of the area. Porto invites you to savor life's flavors in a city where every street, every bite, and every moment reveal a rich tapestry of history and culture.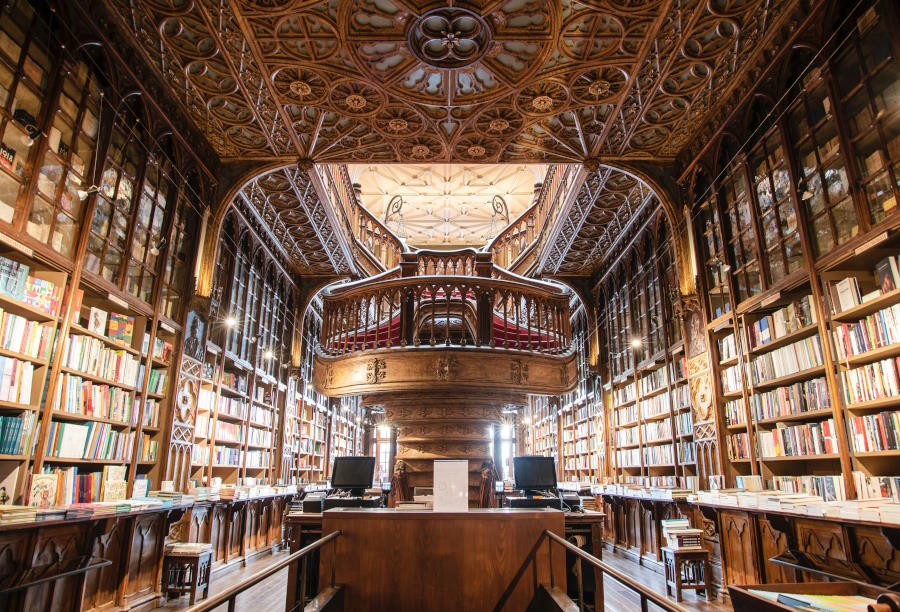 Not To Miss
• Lello e Irmão Bookstore: A stunning neo-Gothic bookstore, one of the most beautiful in the world, that it is been said to have inspired J.K. Rowling and is famous for its wooden staircase.
• Igreja do Carmo: Was built between 1756 and 1768 in the rococo or late Baroque, style by a disciple of Nicolau Nasoni, Jose de Figueiredo Seixas. The Igreja do Carmo has an outstanding azulejo-covered exterior with more than 11,000 individual pieces.
• Clerigos Tower: A baroque church with a 76-meter tower offering the most awe-inspiring panoramic views of the historic center and beyond.
• Avenida dos Aliados: An impressive avenue in the grandest sense, akin to the most majestic European cities, surrounded by modernist buildings, leading to Praça da Liberdade and its historic City Hall.
• Capela das Almas: This chapel is located in the heart of the city center and stands out for its azulejo tiles that cover its façade, making it one of the most photographed buildings in Porto.
• Rua Santa Catarina: A lively pedestrian street with shops, cafes, and traditional stores. There you'll find Majestic Café, the most beautiful cafe in Porto. Actually, considered often as one of the most beautiful cafes in the world. It dates back to 1921.
• Igreja de Santo Ildefonso: A church adorned with blue and white tiles showcasing scenes from the life of Saint Ildefonso.
• São Bento Station: A visually stunning train station with over 20,000 azulejos depicting Portuguese history.
• Jardim do Passeio das Virtudes: Is one of the most well-known and instagrammable viewpoints to combine a sunset with a view of the Douro River. The promenade provides an excellent perspective of the water, all the way to the mouth of the Douro River.
• Rua das Flores: A historic pedestrian street leading to Miradouro da Vitoria, a panoramic viewpoint.
• Convento de Santa Clara: A baroque church known for its intricate impressive golden woodwork and azulejos.
• Medieval City Walls: Explore the medieval city walls, including the Muralla Fernandina and the Primitiva.
• Porto Cathedral (Sé): Visit the cathedral with its Gothic cloister and stunning views from the terrace.
• Palacio da Bolsa: Tour this neoclassical building with opulent rooms and a glass-domed central courtyard.
• Igreja de San Francisco: Explore this baroque church with its lavish gilded interior and catacombs.
• Jardins do Palacio de Cristal: Relax in these romantic gardens with sweeping views of the Douro River.
• Dom Luis I Bridge: Walk across this iconic double-deck iron bridge for breathtaking vistas.
• Visit a Port Wine Cellar: End your trip with a visit to a renowned wine cellar in Vila Nova de Gaia, where you can learn about and taste Port wine.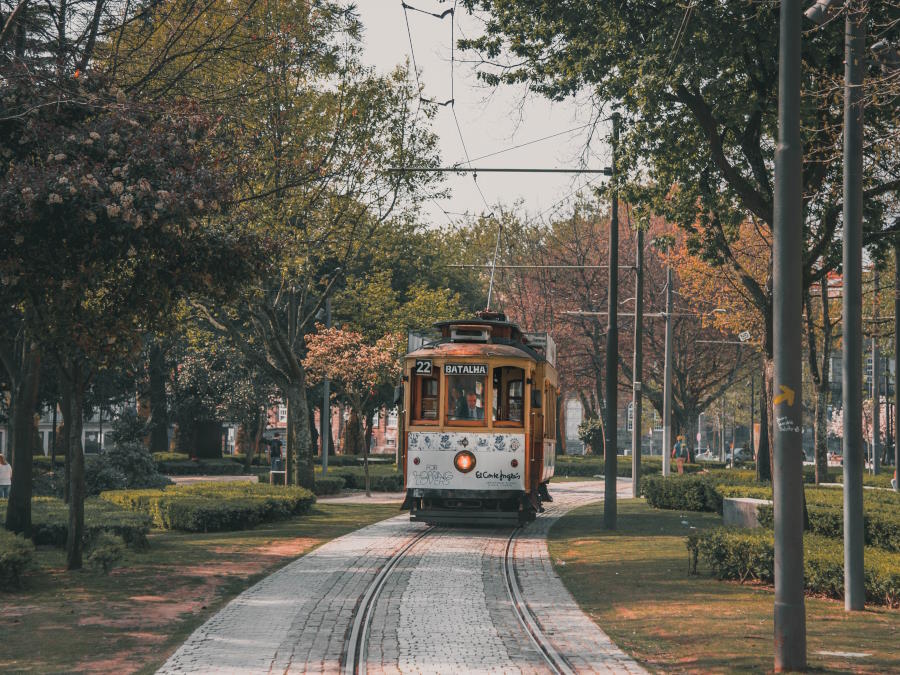 Unveiling Porto's Urban Transformation: The Campanhã Master Plan
Porto, known for its historic charm and vibrant culture, is gearing up for a major urban makeover that's set to redefine its eastern horizon and revitalize the city's real estate attractiveness. It's all part of an exciting initiative called the Campanhã Urban Plan (PUC), recently revealed to the public.
In the words of Porto's Mayor, Rui Moreira, this ambitious project promises nothing short of a "revolution" in the city's eastern districts. Spread across an impressive 55Km², this urban development endeavor is set to breathe new life into the area. While there's no fixed completion date on the horizon just yet, city officials are committed to seeing this visionary project through.
So, what's driving this transformation? The answer lies in the forthcoming High-Speed Rail (HSR) connection between Porto and Lisbon, slated to be up and running by 2030. This HSR link, which will reduce travel time between these two vibrant cities to just 1 hour and 15 minutes, necessitates a revamp of the existing Campanhã railway station.
But that's just the beginning. Porto's municipality sees this infrastructure investment as an opportunity for a broader urban revitalization effort – a chance to expand and modernize the city to the east. Rui Moreira is enthusiastic about the potential of this vast tract, calling it the "largest available area for construction and real estate rehabilitation" within Porto.
The PUC encompasses the Campanhã parish and a portion of Bonfim, and it's seen as the epicenter of Porto's future development. To manage this growth effectively, city officials plan to create a dedicated "Small Municipal Master Plan" for Campanhã. The goal? To reimagine Campanhã as a vibrant hub ready for investment in housing, commerce, services, startups, cultural initiatives, and environmental projects.
Mayor Rui Moreira highlights Campanhã's history of neglect, emphasizing that now is the time to see this district as "a territory of the future" from which Porto can expand and modernize. The eagerly anticipated High-Speed Rail, a linchpin of the project, is set for 2030, pending approvals from Infraestruturas de Portugal. Recognizing the long-term nature of this endeavor, Pedro Baganha, responsible for urbanism in the city council, likens it to the 20-year transformation catalyzed by Expo 98 in Lisbon.
Looking ahead, significant developments are in the pipeline, including a 40 million euro renovation project for the former Municipal Slaughterhouse and a 4 million euro investment in revitalizing Corujeira Square. Additionally, there are plans to construct a new alternative connection to the lower deck of the Dom Luís Bridge, aptly named Ponte D. António Francisco dos Santos. This surge of infrastructure activity underscores the unified vision of Mayor Rui Moreira and Portugal's Minister of Infrastructure, João Galamba, who both perceive the Campanhã Urban Plan (PUC) as a monumental "revolution" and a transformative force with far-reaching implications for Porto's future.
As Porto prepares to embrace these winds of change, Campanhã stands at the epicenter of a monumental shift. It's a 21st-century "Processo Revolucionário em Curso" (PREC), a Revolutionary Process in Progress, poised to redefine the identity and future of Porto's easternmost district and make it even more appealing to the real estate global market.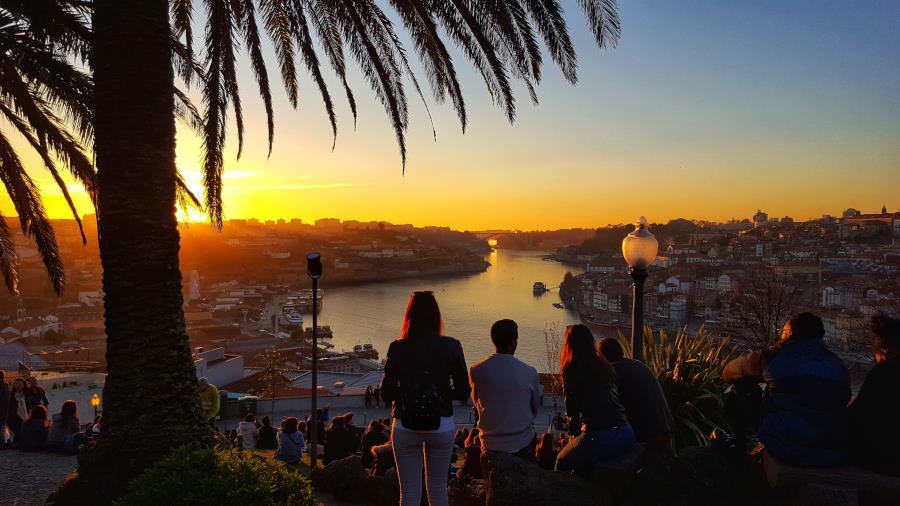 Realistic Overview of Porto's Current Real Estate Market
In the ever-evolving landscape of Porto's real estate market, as of September 2023, several notable trends and statistics are shaping the city's property scene. These insights provide a valuable perspective for anyone interested in the Porto real estate market.
A. Statistical Snapshot: Porto's Real Estate Market in September 2023
- Average Price per Square Meter: The average price per square meter for homes in Porto stands at 2,457 €/m2.
- Monthly Change: Over the past month (August 2023), there has been a slight decrease of 0.1% in property prices.
- Quarterly Change: Examining the last three months (since June 2023), property prices have experienced a 1.8% decrease.
- Annual Change: In comparison to September 2022, there has been a notable increase of 3.0% in property prices within Porto.
- Historical High: The highest recorded price per square meter in recent history was 2,503 €/m2 in June 2023.
- Maximum Variation: The most significant fluctuation in property prices over the past year resulted in a decrease of 1.8%.
When juxtaposed with neighboring areas, Porto maintains its status as a city with relatively higher property prices, averaging 2,457 €/m2. Here's a glimpse of property prices in select nearby locations:
- Amarante: The average price per square meter is 934 €/m2, with a 3.1% decrease compared to the previous month.
- Gondomar: Property prices average 1,631 €/m2, marking a 1.2% increase compared to the previous month.
- Matosinhos: In Matosinhos, property prices average 2,893 €/m2, accompanied by a recent 2.8% decrease.
- Vila Nova de Gaia: The average price per square meter in Vila Nova de Gaia is 2,214 €/m2, with no significant change observed in the last month.
Despite recent fluctuations, Porto's property market has demonstrated resilience over the past year, underpinned by a consistent upward trajectory in property prices. This comprehensive overview provides valuable insights into the current state of Porto's real estate market and its alignment with neighboring regions.
B. Real Estate Market: Prospects for the Second Half of 2023 in Porto
As Porto and the broader EU region navigate the complexities of 2023, the real estate sector remains a subject of intrigue and adaptation. The following insights shed light on the prospects and challenges that lie ahead.
Access to More Expensive and Challenging Credit: The economic environment has evolved significantly, characterized by notably higher borrowing costs. Uncertainties stemming from the ongoing price adjustment phase have led to a cautious approach among investors, with a "wait-and-see" attitude prevailing.
Sectors Facing Challenges: Certain sectors within the real estate market face distinct challenges. Logistics, while rapidly adjusting, grapples with the slowdown in international trade, impacting demand. Rentals experience contraction as tenants explore diverse options. The office segment is marked by uncertainties tied to remote work and the potential depreciation of assets.
Short and Long-Term Predictions: While short-term challenges persist, the long-term outlook is more sanguine. Logistics is expected to perform exceptionally well over the next five years, driven by sustained demand. Offices in major business districts exhibit resilience and are poised for steady growth. Retail adapts to e-commerce trends, with varying prospects for value creation. Health and residential sectors, underpinned by demographic shifts, offer stability and potential returns.
---
Promote your business in the domestic and international market
UrbaMarkt is an international marketing portal dedicated to bringing national and international buyers together with local professionals, increasing the possibilities of exposing their products and experiences to customers anywhere in the world.

---