The district of Braga in Portugal is a treasure trove of attractions and appealing features that make it a sought-after destination for both residents and tourists. Here, we explore the most enticing aspects that define the allure of Braga: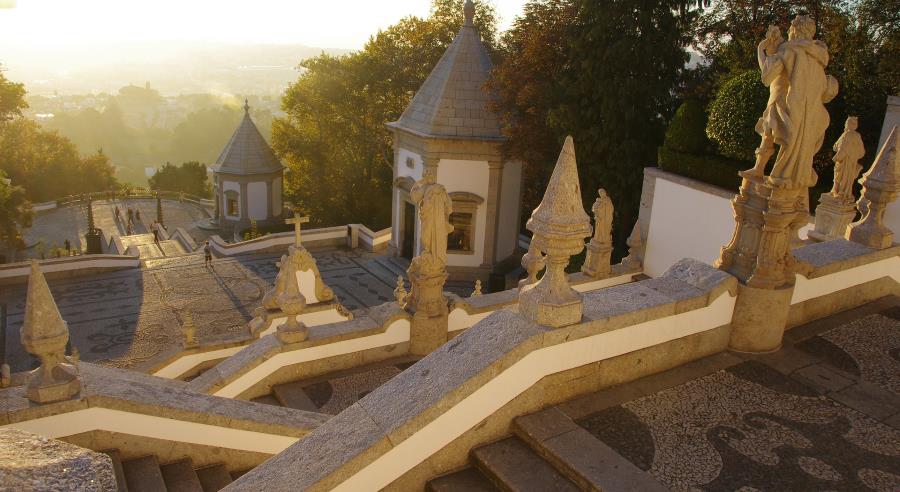 • Rich History and Heritage
. Braga proudly stands as one of Portugal's oldest cities, with a rich history that spans over two millennia. Often referred to as the "Portuguese Rome," it boasts a multitude of historic churches, including the iconic Bom Jesus do Monte Sanctuary. The city's historic center is a veritable treasure trove of architectural marvels and meticulously preserved heritage.
• Cultural Hub
. Braga serves as a vibrant cultural center, with a profusion of museums, art galleries, and cultural events. Throughout the year, the city hosts a diverse array of festivals and cultural activities that draw artists, musicians, and performers from across the globe.
• Educational Excellence
. Home to Portugal's second oldest university, the University of Minho, Braga attracts students and scholars, contributing to the city's intellectual and cultural dynamism.
• Religious Significance
. Braga, often referred to as the "City of Archbishops," boasts a profound religious heritage. It is home to several historic churches, including the Sé de Braga, one of Portugal's oldest cathedrals. Pilgrims frequently journey to Braga to partake in its spiritual significance.
• Green Spaces
. Surrounded by lush natural landscapes, including the Peneda-Gerês National Park, Braga offers a unique blend of urban living and access to breathtaking natural beauty. Within the city, charming parks and gardens like the Santa Barbara Garden provide residents and visitors with idyllic settings for leisurely strolls and picnics.
• Modern Amenities
. Despite its rich historical tapestry, Braga is a thoroughly modern city. It boasts excellent infrastructure and amenities that enhance the quality of life for its residents. These include modern healthcare facilities, shopping centers, and a diverse culinary scene.
• Tech Hub
. In recent years, Braga has emerged as a burgeoning tech hub, drawing startups, entrepreneurs, and digital nomads. The city's growing tech ecosystem, combined with its affordability and skilled workforce, positions it as an attractive destination for tech-related businesses.
• Quality of Life
. Braga consistently ranks highly in quality of life indices. Its relatively low cost of living, emphasis on safety, and exceptional public services make it an ideal locale for both living and raising a family.
• Accessibility
. Braga benefits from excellent transportation connections, including well-maintained roadways and rail links. Its proximity to Porto, one of Portugal's major cities and an international gateway, further enhances its accessibility.
• Diverse Real Estate Options.
Braga offers an array of real estate options, catering to different lifestyles and preferences. From historic properties in the city center to modern apartments and countryside estates, the diversity of housing ensures there's something to suit everyone.
These appealing facets collectively establish Braga as an enticing destination that seamlessly blends history, culture, natural splendor, and contemporary amenities.
Braga's Real Estate Overview
While regions like the Algarve, Lisbon, and Porto have their own allure, Braga beckons with its distinct charm. Amidst breathtaking landscapes and serene cities, remarkable properties await discerning buyers.
Braga's real estate landscape is further enriched by its picturesque natural surroundings, nestled amid lush green landscapes, rolling hills, and the scenic River Cávado. Properties with panoramic views, country estates, and charming cottages abound in the outskirts, offering tranquil retreats within easy reach of the city.
Here's an insightful real estate overview of Braga, supported by pertinent data to ensure you make an informed decision.
Property Types
— Braga offers a wide variety of property types to cater to diverse preferences and budgets. These encompass apartments, townhouses, detached houses, villas, and rural properties like farmhouses. This diversity ensures that there's a property suited to every individual.
Property Prices
— Property prices in Braga can exhibit significant variation, influenced by factors such as location, property type, size, and condition. As of July 2023, here are some average price ranges.
An apartment in the city center commands an average price of approximately €2,300 per square meter.
Beyond the city center, the average cost for an apartment decreases to approximately €1,217 per square meter.
For the district as a whole, the average price per square meter stands at €1,702.
Comparing trends from April 2023, there has been a noteworthy increase of 16.2% in property prices.
In comparison to July 2022, property prices have experienced a decrease of 4.3%.
Freguesia Highlights
— It's interesting to note that there are variations within Braga's different "freguesias" (parishes):
The "freguesia" with the lowest average price per square meter is Adaúfe, where prices were €1,165 per square meter in July 2023. This region witnessed a monthly decrease of -8.3% and a quarterly decrease of -26.5%.
Conversely, the "freguesia" with the highest average price per square meter is São José de São Lázaro e São João do Souto, where prices reached €2,622 per square meter in July 2023. This area experienced a monthly decrease of -6.4% and a quarterly decrease of -6.0%.
Price Trends
— Understanding recent price trends is invaluable for both buyers and sellers. Here are the noteworthy trends in Braga.
Property prices remained stable in July 2023, compared to the previous month (June 2023).
Over the span of three months since April 2023, property prices have surged, marking an increase of 16.2%.
In contrast, when measured against July 2022, property prices have seen a modest decrease of 4.3%.
Braga's real estate market offers a diverse range of properties and price points to suit various preferences. Whether you seek the vibrancy of the city center or the tranquility of the countryside, Braga's real estate market presents a plethora of opportunities for both residents and investors. Be sure to consider these trends and insights when exploring real estate prospects in this captivating district.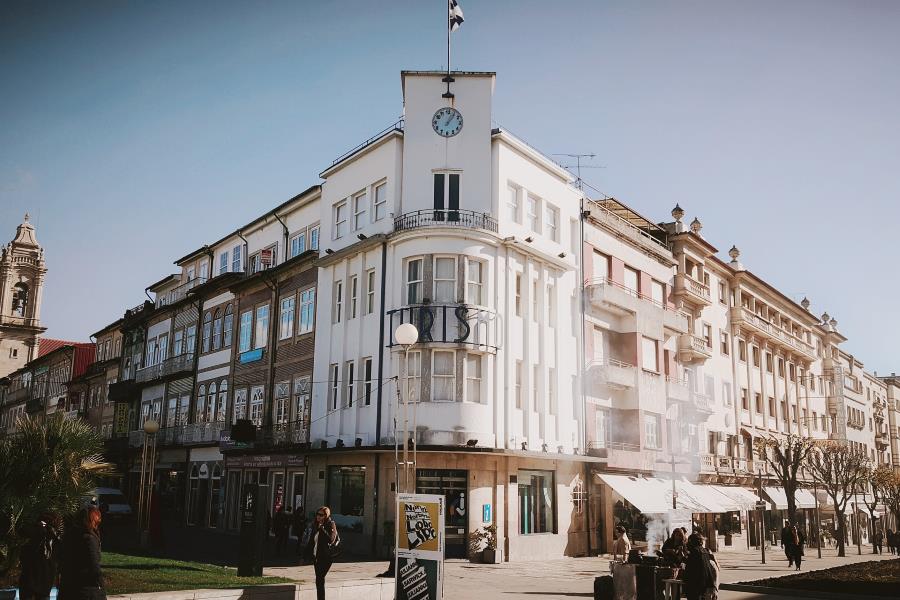 Opportunity: Upcycling Properties in the District of Braga
The district of Braga presents a remarkable opportunity for those interested in finding and restoring old houses, which is currently in vogue due to a strong upcycling trend. Here's why this region is an excellent choice for such endeavors:
Abundance of Historic Properties
. Braga is rich in history, with a legacy dating back over two millennia. As a result, the district is dotted with historic properties, including traditional Portuguese houses, ancient farmhouses, and charming village cottages. Many of these properties have fallen into disrepair and are in need of restoration.
Architectural Diversity
. The district offers a diverse range of architectural styles, from classic Portuguese designs to more unique and regional aesthetics. This diversity means that you can find old houses with distinct features, allowing for creative restoration projects.
Affordable Real Estate
. Compared to more popular regions like Lisbon or Porto, Braga offers relatively affordable real estate options. The cost of purchasing an old house in need of restoration is often lower here, making it an attractive choice for those on a budget.
Rural and Countryside Settings
. Braga is known for its picturesque countryside, lush landscapes, and proximity to natural reserves like the Peneda-Gerês National Park. Many old houses for restoration are situated in these serene and idyllic rural settings, providing an opportunity to create a peaceful retreat.
Local Craftsmanship
. The district of Braga has a long history of skilled craftsmanship, particularly in areas like carpentry, stonemasonry, and tile-making. When restoring an old house, you can tap into this local expertise to source high-quality materials and artisans for your project.
Upcycling and Sustainability
. Upcycling, which involves repurposing and renovating old items, is a growing trend in sustainable living. Restoring an old house aligns with this ethos by breathing new life into existing structures rather than building from scratch. It's an environmentally friendly way to create a unique living space.
Strong Community
. Braga and its surrounding towns and villages often have tight-knit communities. Restoring an old house here can allow you to become part of a welcoming and supportive local community.
Tourism Potential
. Portugal, in general, has seen a surge in tourism, and Braga is no exception. If your restored property is located in a desirable area, there may be opportunities for short-term rentals or running a charming bed and breakfast, capitalizing on the tourist influx.
Personalization
. Restoring an old house provides you with a blank canvas to create a personalized living space. You can preserve the historical character of the property while incorporating modern conveniences and your unique design preferences.
Investment Potential
. As the district of Braga grows in popularity, restored old houses may appreciate in value, presenting a potential long-term investment opportunity.
The district of Braga offers an exceptional opportunity for those intrigued by the trend of restoring old houses, especially in the context of upcycling and sustainable living. With its abundance of historic properties, architectural diversity, affordability, and strong community spirit, Braga provides an ideal environment for embarking on exciting restoration projects that breathe new life into old structures.
As you explore the captivating prospects of restoring old houses in the district of Braga, we invite you to take your search further with us. Don't forget to check out our social media channels on
Instagram
,
Twitter
, and
Facebook
, or visit our dedicated
platform
to discover that perfect real estate opportunity waiting for you in Braga.
---
Promote your business in the domestic and international market
UrbaMarkt is an international marketing portal dedicated to bringing national and international buyers together with local professionals, increasing the possibilities of exposing their products and experiences to customers anywhere in the world.

---