Nestled along Portugal's picturesque coast, Cascais, often referred to as the "Portuguese Riviera," exudes an air of timeless elegance and seaside charm.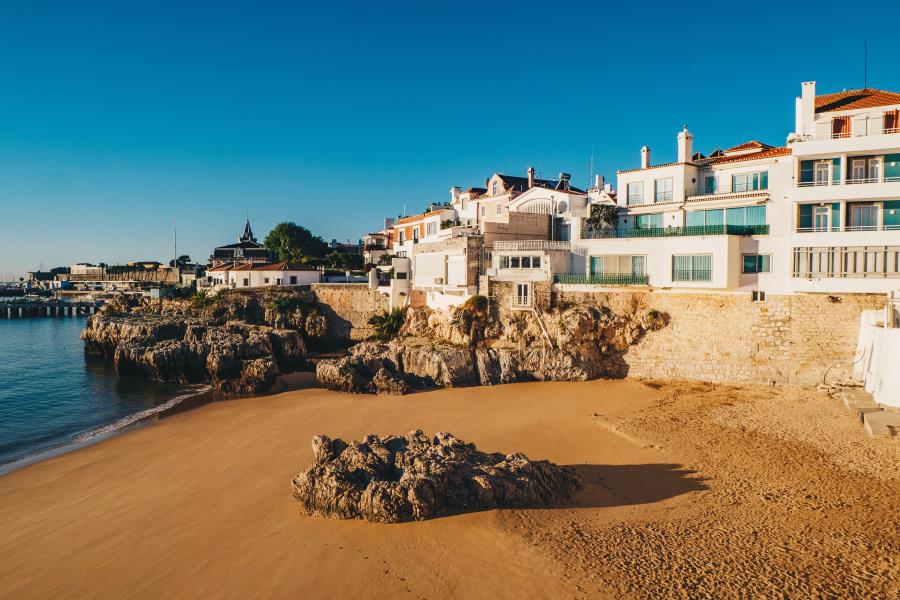 Originally a humble fishing village, its transformation into a cosmopolitan resort town began when the Portuguese monarch at the time, selected it as his summer retreat in the late 1800s. The allure of Cascais soon captured the attention of nobility, resulting in the construction of graceful 19th-century mansions that now grace its cobbled streets and seafront promenades.
During World War II, when Portugal maintained its neutrality, European monarchs sought refuge along the Lisbon coast, with many making Cascais and neighboring Estoril their sanctuary. This influx of royal residents further enriched the region's cultural tapestry.
Today, Cascais welcomes everyone, from Lisbon locals seeking a day of beachfront relaxation, a refreshing dip in the Atlantic Ocean, indulgent seafood feasts, or a leisurely stroll along the shore. Tourists visiting Lisbon also seize the opportunity to savor sunny days on this captivating coast. While often a day trip, some opt to make Cascais their home base for extended summer vacations.
Beyond its beaches, Cascais beckons surfers and windsurfers to Carcavelos and Guincho, the westernmost coast in Europe, where World Surfing Championships have been held. But this town is more than sand and surf; it boasts a growing number of cultural attractions. Combine these with world-class hotels and a mild climate, and you have the perfect vacation destination.
Cascais Top Highlights
Sandy Beaches with a Mediterranean Flair on the Atlantic
Cascais offers pristine sandy beaches against the backdrop of the Atlantic Ocean, creating a Mediterranean atmosphere that's perfect for sun-seekers.


Surfing on Europe's Westernmost Coast
If you're a surfer or windsurfer, Cascais boasts some of Europe's best waves on its westernmost coast, including Guincho Beach, which has hosted the prestigious World Surfing Championships.


A Resort Town Minutes from a European Capital
Cascais offers the tranquility of a resort town while being conveniently close to the vibrant urban attractions of Lisbon. You can easily take a 40-minute train ride to the capital.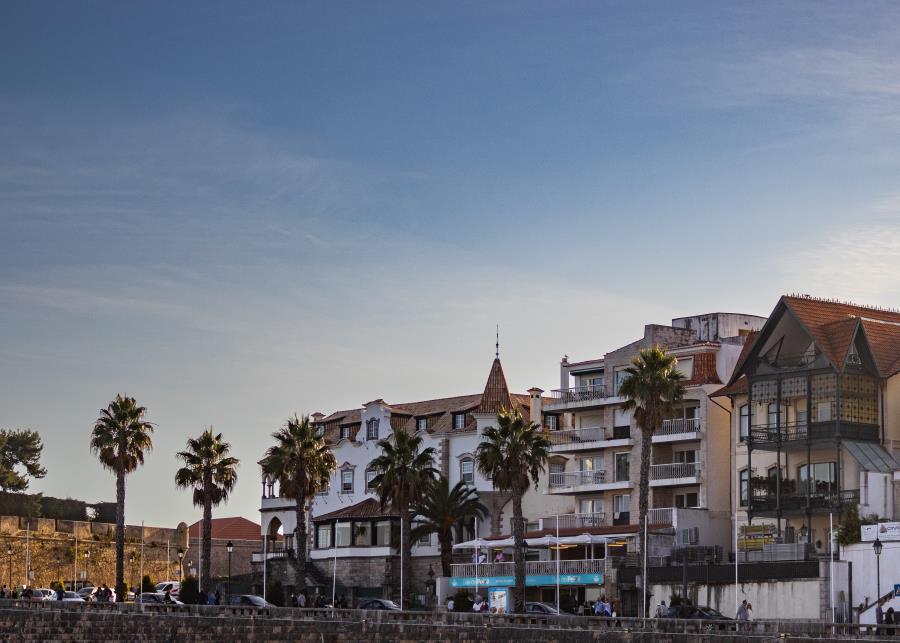 Curious Facts About Cascais
- Cascais ranks among the wealthiest towns in the Iberian Peninsula and is home to what is perceived as Lisbon's upper class, residing in grand mansions dating back to the late 1800s and early 1900s.
- It was the first town in Portugal, and even before Lisbon, to have electricity. The inaugural electric light illuminated the citadel in September 1878, commemorated by a plaque at the monument.
- Historians speculate that a Cascais navigator accidentally discovered America in 1482, a decade prior to Christopher Columbus. This navigator purportedly visited Columbus' residence on the Portuguese island of Madeira, sparking Columbus' interest in exploring the western direction. However, when he failed to secure support from the Portuguese king, Columbus turned to the Spanish monarchy
- The town's name, Cascais, finds its origins in the Roman word "Cascale," meaning a pile of seashells, harking back to its maritime heritage.
Explore Nearby Gems
While Cascais itself offers a delightful array of attractions, there are also captivating destinations just a short ride away. Here are some must-visit places of interest near Cascais that promise unforgettable experiences:
1. Sintra: Nestled in lush hills, Sintra is a fairy tale town with a UNESCO-listed historic center. Explore the colorful Pena Palace, the enchanting Moorish Castle and the mysterious Quinta da Regaleira. The "Initiation Well" at Quinta da Regaleira in Sintra, Portugal, is a nine-level underground structure that symbolically evokes the stages of Hell, Purgatory, and Paradise, reminiscent of Dante's "Divine Comedy." It is part of a complex filled with esoteric symbols on the estate, often associated with Templar lore, representing an initiatory journey towards spiritual enlightenment.


2. Lisbon: The capital beckons with its vibrant atmosphere and cultural delights. Roam the narrow streets of Alfama, the city's oldest district, and soak in its timeless charm. Visit iconic landmarks like the Belém Tower and Jerónimos Monastery, both UNESCO World Heritage Sites, to admire intricate Manueline architecture. Explore the contemporary LX Factory, a hub of creativity, and revel in Lisbon's diverse culinary scene, from pastéis de nata to fresh seafood dishes. Don't forget to immerse yourself in the melancholic beauty of Fado music at a local tavern.


3. Cabo da Roca: Known as the westernmost point of continental Europe, Cabo da Roca offers dramatic cliffs and breathtaking Atlantic Ocean views. Don't miss the iconic monument marking this significant geographical landmark.


4. Guincho Beach: For surf enthusiasts or those seeking a pristine beach experience, Guincho Beach is a paradise. Its rolling waves and golden sands make it a must-visit spot for sun and surf lovers.


5. Boca do Inferno: Just a stone's throw from Cascais, this natural wonder translates to "Hell's Mouth." Witness the power of the sea as waves crash against the rugged cliffs and create a spectacle of spray and sound.


6. Estoril: Discover the elegance of Estoril with its renowned casino, beautiful gardens, and relaxed ambiance. Stroll along the palm-fringed promenade and embrace the coastal charm.


7. Cascais Marina: While not a short ride, the picturesque Cascais Marina is within walking distance and offers a vibrant atmosphere with yachts, restaurants, and a chance to soak in the maritime spirit.


8. Adraga Beach: If you're craving a quieter beach experience, Adraga Beach is a hidden gem. Surrounded by cliffs and featuring a cozy seafood restaurant, it's perfect for a serene escape.


9. Mafra: Visit the impressive Mafra National Palace, a Baroque masterpiece with a stunning library. Explore its grand halls and gardens, a short drive from Cascais.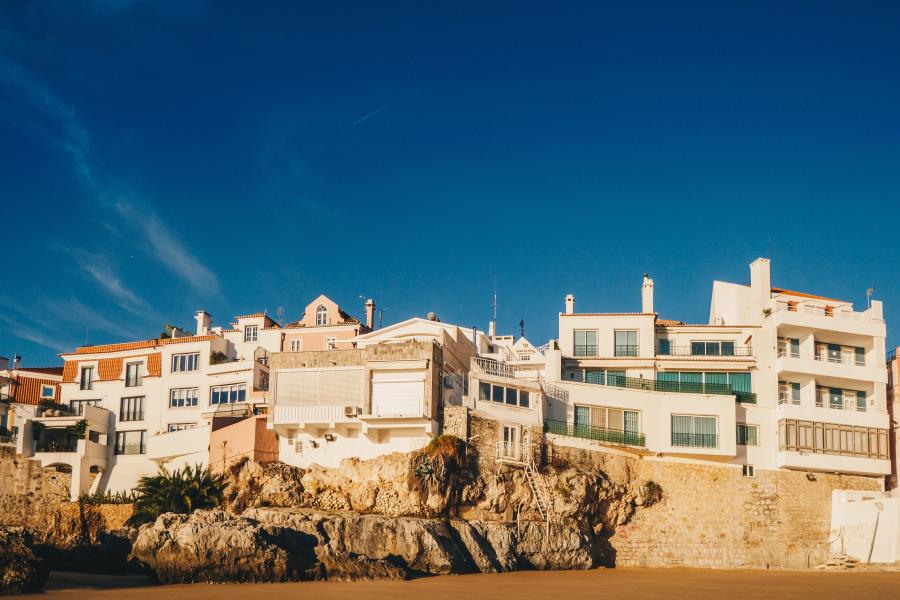 Cascais Real Estate Overview
Cascais and Estoril, both nestled along Portugal's picturesque coastline and part of the same Municipality, offer a prime location for luxury real estate seekers. In 2023, property prices in these areas average €5,736 per square meter, making them the most exclusive in the Cascais region. Here, you'll discover a world of opulence, from modern apartments and elegant villas to a scenic yacht marina.
Cascais, steeped in history, boasts palaces and mansions that evoke a bygone era, while a stroll along the coast reveals the beaches that are popular among avid surfers.
For families, Cascais and Estoril are an ideal choice, thanks to proximity to excellent international schools like Park International School, St. António International School, and St. John's International School. The real estate listings in this area are equally impressive, offering spacious homes and top-notch amenities.
But it's not just luxury that draws you here. The Cascais real estate market presents solid investment opportunities, with rental yields ranging from 4.42% to 7.22% in 2022, depending on the property type and size.
Why Buy Cascais Property Real Estate?
Cascais has earned its reputation as a luxury haven, attracting celebrities and prominent figures, including the likes of Philippe Starck. The Portuguese Riviera's history of desirability, combined with its proximity to Lisbon, just a 30-minute coastal drive away, makes it a prime destination for luxury property buyers.


Where is the Best Area to Buy Property in Cascais?
- Carcavelos and Parede: These neighboring areas offer attractive properties at a lower price point, averaging around €4,136 per square meter. St. Julian's School and St. Dominic's International School provide excellent education options.

- São Domingos de Rana: Located behind Carcavelos and Parede, this area is the most affordable in the Cascais municipality, with average prices of €3,105 per square meter. Enjoy proximity to the sea and a tranquil atmosphere.

- Alcabideche: Positioned north of Cascais and Estoril, Alcabideche offers lower-priced properties at €4,289 per square meter. It's an ideal location for nature lovers, with access to Sintra National Park, beautiful beaches, and excellent golf courses.

When seeking property for sale in Cascais, these diverse areas cater to different preferences and budgets, ensuring you find your dream home along Portugal's breathtaking coastline.
To sum it up, Cascais, often referred to as the "Portuguese Riviera," is an ideal destination for expats in search of a new home. As we've explored, this coastal town effortlessly combines timeless elegance with seaside charm and a rich historical heritage.
Having evolved from a humble fishing village into a cosmopolitan resort, Cascais has been a magnet for European nobility since World War II, and it continues to attract residents from all walks of life. It offers stunning beaches, world-class surf spots, and a thriving cultural scene.
Beyond its pristine shores, you'll discover a wealth of cultural and natural treasures nearby, including the enchanting town of Sintra and the vibrant city of Lisbon. Cascais and Estoril present enticing real estate opportunities, featuring luxurious apartments and villas. Families will especially value the proximity to international schools, making it an optimal choice for expat living. Furthermore, the Cascais real estate market presents promising investment prospects.
Whether you're in pursuit of luxury, family-friendly living, or astute investment options, Cascais has it all. This coastal haven extends an invitation to call it home, where history, culture, and the splendors of nature await. Cascais transcends being just a destination; it represents the beginning of your next chapter.
---
Promote your business in the domestic and international market
UrbaMarkt is an international marketing portal dedicated to bringing national and international buyers together with local professionals, increasing the possibilities of exposing their products and experiences to customers anywhere in the world.


Mirla Ferreira


In love with finance and technology, Mirla writes about tips & advices at UrbaMarkt, where she is Product Manager. Mom from Sept 1994 until forever.
---