Situated in the radiant Algarve region, Olhão, officially known as Olhão da Restauração, stands as a testament to a harmonious blend of tradition and modernity.
With its history dating back to the late 17th century, this city paints a vivid picture of fishermen, cobblestone streets, and the lively atmosphere of its bustling port. As of 2021, this municipality, spread across 130.86 km², is home to approximately 44.614 residents.
Though closely knit with the regional capital, Faro, and forming part of the urban continuum that spans from Faro to Tavira, Olhão retains its distinct charm. It shines as a picturesque fishing town in central Algarve, where the deep blue sea meets the pristine shores of the Ilha da Armona e Ilha da Culatra. Beyond its boundaries, the tranquil waterways of the Parque Natural da Ria Formosa beckon, standing as one of Portugal's seven natural wonders.
While many towns in the Algarve have shifted their focus towards tourism, Olhão remains rooted in its primary trade – fishing. This city, relatively unaltered by the sands of time, boasts landmarks like the Nossa Senhora church from 1715 and the intricate alleys of the fisherman's quarters. The essence of Olhão is authenticity; cafes brimming with lively Portuguese conversations, traditional fishermen's houses preserving history, and the city's atmosphere exuding an authentically Portuguese spirit.
Yet, the true heart of Olhão lies with the Ria Formosa. It is here that one can feel the Ria's vibrant essence, observing the myriad forms of life that emerge, thrive, and eventually return to nature's fold. As time progresses, Olhão remains a place where the rhythms of nature and tradition harmoniously coexist.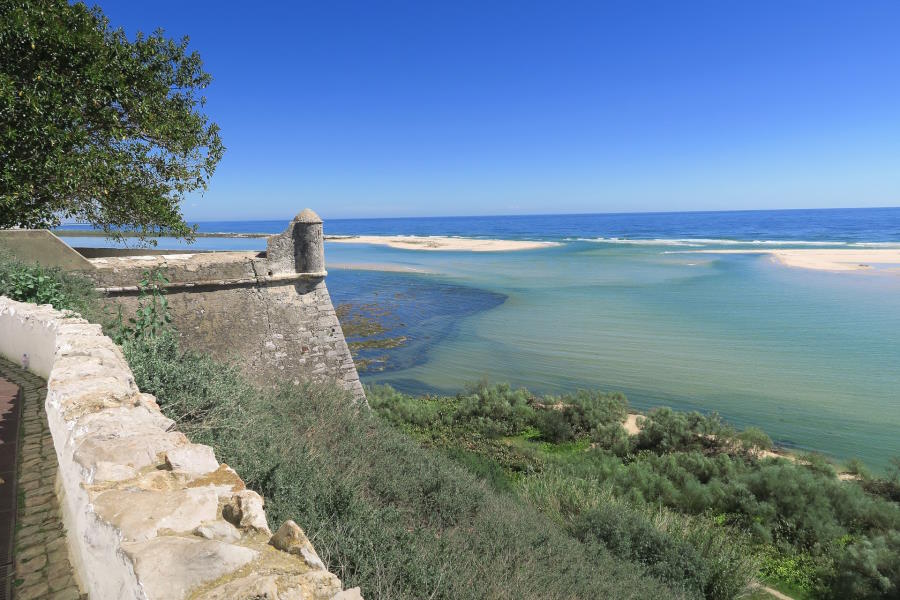 Historic Overview
From its roots in pre-history, Olhão bears evidence of ancient human habitation. The earliest written record, from 1378, alludes to a locale named 'Olham'. This town's growth, particularly along its beach in the early 17th century, was heavily influenced by the estuary's abundance of water, drawing fishermen in droves. Even as authorities in Faro advised against such a coastal congregation, the settlement flourished. By mid-17th century, the Fort of São Lourenço do Bugio stood sentinel, safeguarding the coast and estuary entrance from corsair attacks.
This fishing community witnessed exponential growth as the fishing industry and associated commercial activities expanded. Consequently, in 1695, to reflect its burgeoning significance, the residents successfully petitioned the Bishop of Faro for Olhão's de-annexation from the parish of Quelfes. This led to the establishment of the parish of Nossa Senhora do Rosário de Olhão.
The Peninsular Wars saw Olhão rising against the French occupation of the Algarve. On 16 June 1808, this defiance culminated in a public uprising, leading to the ousting of the French from both Olhão and subsequently, the entire Algarve. In the aftermath, a daring journey was undertaken by 17 Olhanese men who sailed to Brazil on a caique named 'Bom Sucesso'. Their mission was to inform the Portuguese Court, then based in the colony due to the French invasion, of their victory against the occupiers. A replica of this symbolic vessel stands anchored on Olhão's waterfront today.
Recognizing Olhão's valor, the Prince Regent John granted the town a regal charter, elevating its status from a mere locality to 'Vila de Olhão da Restauração'. By 1826, this new recognition led to the establishment of an autonomous municipality.
Today, Olhão stands as the most traditional cultural Algarvian coastal city, preserving its rich history and heritage amidst the changing tides of time.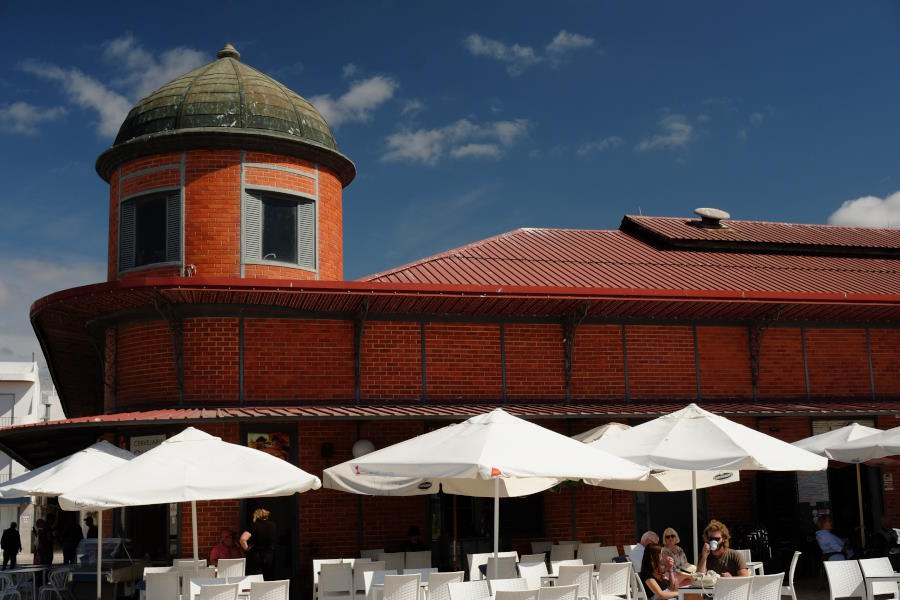 Cultural Patrimony Overview of Olhão
Olhão, a city where its allure lies not in the grandiose, but in the understated. Unlike many other tourist destinations, Olhão offers visitors the privilege of being unburdened by the pressure of ticking off 'must-see' attractions. Instead, it lets its history speak through the people and the streets. For the adventurous spirit, the city boasts a hill named São Miguel, crowned with a modest pilgrimage chapel and surrounded by countless rock roses. Upon its zenith, one can witness a panorama of the eastern Algarve, showcasing shimmering salt pans, the glistening sea, and fruit trees, with little human interruption.
Olhão's history is rich and embedded in every corner. From ancient Celtic tribes to Phoenicians who set up tuna fisheries and fish-salting industries. The Romans, recognizing the value, integrated the offerings of the previous civilizations. Arab dominion, initiated by the Umayads, was eventually curtailed by the Inquisition. The city also experienced the march of foreign soldiers, including Napoleon's army, which met its defeat at the city's periphery. The legacy of these past civilizations and visitors can be witnessed in the gestures, attitudes, and very DNA of the Olhanense people. Their commitment to family and their welcoming nature towards diversity is testament to this rich history.
A journey into the heart of Olhão reveals several monuments and sites, each with its unique historical and architectural significance. The
Compromisso Marítimo de Olhão
now houses the city's museum, with the building dating back to 1768. The
Mercados de Olhão
, constructed in 1912, stands as a testament to the city's architectural prowess and remains a must-visit destination. The
Igreja Matriz de Nª Srª do Rosário
began its construction in 1698 and showcases one of the most impressive facades in the Algarve.
Further exploration reveals the
Capela do Senhor dos Afllitos
, a baroque construction with a central azulejo panel depicting the Crucifixion of Christ. Nearby stands the
Monumento aos Heróis da Restauração
, commemorating the brave men who participated in the revolt against the French in 1808. The
Igreja de Nossa Senhora da Soledade
, a significant place of worship, dates back to the early 17th century. The city's historic zone, with its white houses topped with mirantes, offers a distinct character unique to Olhão.
For nature enthusiasts, the
Jardim Pescador Olhanense
and
Jardim Patrão Joaquim Lopes
offer green spaces for leisure. The
Zona Ribeirinha
stands out for its restaurants serving regional delicacies and bustling nightlife. The
Porto de Recreio
serves as a support infrastructure for recreational nautics, while the
Porto de Pesca
remains the anchor of Olhão's fishing industry.
Historical residences like the
Chalé Dr. João Lúcio
in Quinta de Marim, built around 1916, and the
Centro de Educação Ambiental de Marim
, with its diverse natural habitats, offer glimpses into the city's past. The
Caíque Bom Sucesso
stands as a symbol of Olhão's resistance against the French, while sites like
Poço das Bombas, Ponte de Quelfes, Igreja Matriz de Moncarapacho
, and
Igreja Matriz de Quelfes
further enrich the city's cultural tapestry.
In essence, Olhão's patrimony is a harmonious blend of nature, architecture, and history, making it a captivating destination for those eager to experience authenticity.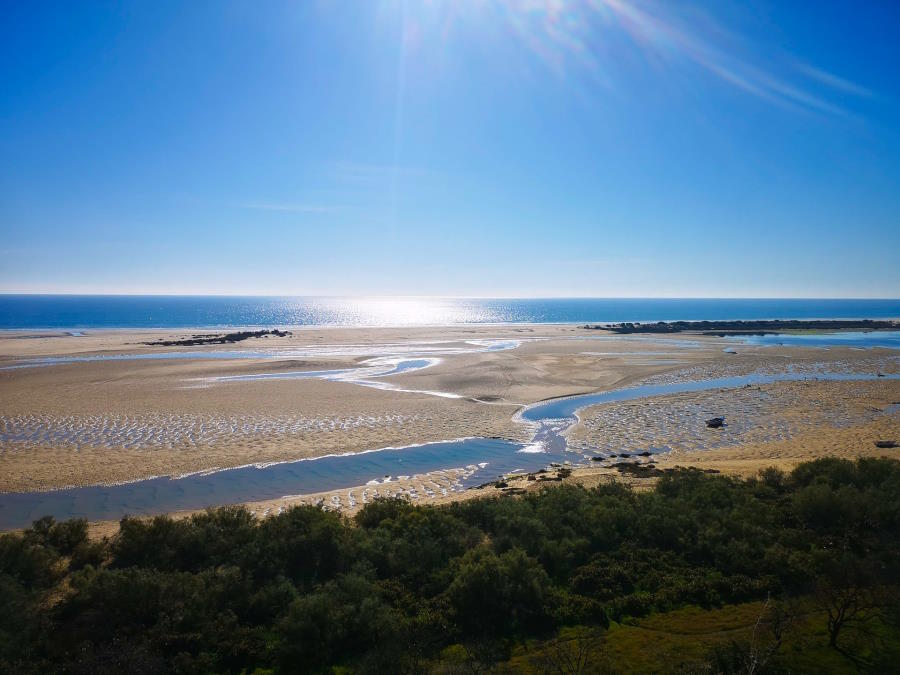 Places of Interest Near Olhão
While Olhão itself is a treasure trove of cultural and historical wonders, the surrounding region too beckons with its diverse attractions. One of the most enchanting experiences near Olhão is a boat journey through the
Ria Formosa Natural Park
. This magnificent natural sanctuary is best explored on water, allowing visitors to immerse themselves in its unique ecosystem. Those embarking on this voyage can expect a safe and enlightening journey, guided by experienced crew members who are adept at navigating the waters and enriching the experience with insightful commentary. As the boat glides through the park, travelers are introduced to the local landscapes and wildlife. Moreover, they get a chance to discover picturesque islands such as
Armona
and
Culatra
, each offering a serene escape from the bustling mainland.
Beyond the immediate vicinity of Olhão, the Algarve region presents a plethora of destinations that cater to varied interests:
• Lagos
: Known for its walled old town, cliffs, and Atlantic beaches. The Ponta de Piedade lighthouse offers panoramic vistas of the coastline.
• Albufeira
: A bustling town known for its vibrant nightlife, beautiful beaches, and old town with cobbled streets and Moorish influences.
• Alvor
: A fishing village turned popular holiday destination, boasting lagoons, nature reserves, and a rich history.
• Carvoeiro
: A coastal town known for its picturesque beaches nestled between rocky cliffs and its traditional Portuguese charm.
• Loule
: A traditional Portuguese market town with historical landmarks, including the Castle of Loulé and the Sanctuary of Our Lady of Piety.
• Olhos de Agua
: A quaint fishing village known for its freshwater springs and sandy beaches.
• Portimao
: A port city known for its old quarter, busy marina, and proximity to many beaches.
• Praia da Luz
: A resort town known for its sandy beach and Roman ruins.
• Praia da Rocha
: Renowned for its broad beach and vibrant nightlife, making it a favorite among tourists.
• Quarteira
: A town with a long beachfront, lined with palm trees and a lively local market.
• Sagres
: Positioned on the western tip of the Algarve, it's known for its dramatic landscapes, historic fort, and the iconic Cape St. Vincent lighthouse.
• Silves
: A town steeped in history with its well-preserved castle and ancient cathedral.
• Vilamoura
: A modern and sophisticated coastal town known for its large marina, golf courses, and archaeological museum.
• Vila Real de Santo Antonio
: Located at the border with Spain, this town is known for its grand plazas, historic buildings, and the Guadiana River.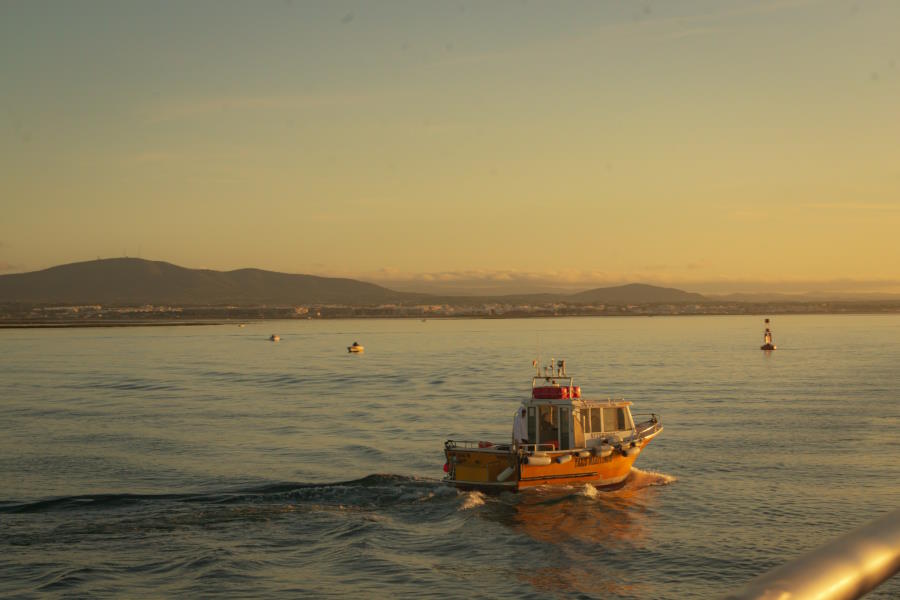 Ria Formosa Lagoon: The Natural Pride of Olhão
Situated along the Algarve's coastline in southern Portugal, the Ria Formosa Lagoon is an emblem of nature's majesty and ecological intricacy. This coastal lagoon, extending nearly 60 km, boasts a diverse range of habitats from barrier islands and marshlands to dunes and forests. Among its extensive barrier system, six inlets act as gateways to the sea. While five are naturally occurring and mobile, the sixth is a man-made inlet, crafted to enhance accessibility to the port of Faro.
Olhão, a vibrant city along this stretch, stands as a guardian to the
Nature Park of Ria Formosa
. The park, established in 1987, envelopes the entire coastal region of the municipality. Recognized in 2004 by the International Union for Conservation of Nature (IUCN) as a wetland of international significance, its chief purpose is safeguarding the river system, with a spotlight on the diverse flora, fauna, migratory birds, and their habitats. This protected haven spans across multiple municipalities, but Olhão remains a central figure in its preservation and appreciation.
The tidal character of the Ria Formosa, marked by the sea's regular ebb and flow, is instrumental in the lagoon's water dynamics. Its seaward belt, comprising sandbars and islands, shelters the shallow lagoon system. This intricate system houses five barrier islands: Barreta (Deserta), Culatra, Armona, Tavira, and Cabanas, along with the peninsulas of Ancão and Peninsula da Cacela.
Diversity thrives within the Ria Formosa. Its habitats, ranging from saltmarshes and seagrass meadows to tidal channels, are teeming with marine life and bird species. Recognizing its unparalleled ecological contribution, the ICNF (Instituto da Conservação da Natureza e das Florestas) designated it as a national park in 1987. In a testament to its significance, the lagoon earned the title of one of Portugal's seven natural wonders in 2010, clinching the Marine Area category in the '7 Maravilhas Naturais de Portugal'.
Beyond its protected status, Ria Formosa is intertwined with the region's economic fabric. It fosters seafood farms, shell harvesting, and supports the port of Faro. Its recognition extends as a Ramsar site and it holds a place in BirdLife International's list as an Important Bird Area. Serving as a pivotal refuge for migratory birds during transitional seasons, it accentuates the global ecological relevance of this area.
Adjacent to the lagoon, Olhão stands proud. The city's proximity to the lagoon enhances its appeal and connection to nature. Ria Formosa's islands and beaches, blessed with a temperate climate and year-round sunshine, are popular attractions. Islands such as Armona, Barreta, Cacela, Culatra, and Tavira are part of this network. These islands host communities and landmarks like Vale do Lobo, Cabanas de Tavira, Cacela Velha, Manta Rota, and the naturist-friendly Barril Beach. For those seeking an immersive experience, Tavira Island offers a campsite.
In essence, the Ria Formosa Lagoon, with Olhão at its heart, represents a harmonious amalgamation of nature's bounty, economic sustainability, and cultural richness, solidifying its place as a cornerstone of Portugal's natural heritage.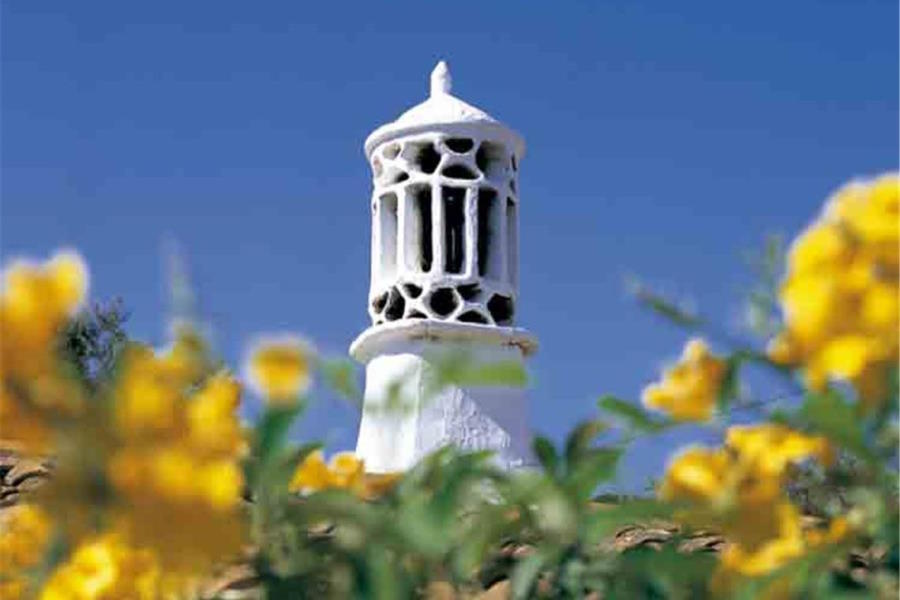 Real Estate Dynamics in Olhão: Trends, Developments, and Key Insights
In the heart of the Algarve, Olhão stands prominently as a city experiencing significant shifts in its real estate landscape. As it garners attention for its natural beauty, particularly its proximity to the Ria Formosa Lagoon, and its deep-rooted cultural heritage, the city has become a focal point for property investors and residents alike.
Recent Developments in Housing
: One of the most noteworthy advancements in Olhão's housing sector is the initiation of the "habitação a custos controlados" project led by the Câmara de Olhão. This project is aimed at providing housing at controlled costs. The first phase of this initiative saw the signing of promise-to-purchase contracts for houses, marking a significant step towards housing affordability in the city. As per recent announcements, families are expected to move into these new homes by the start of the upcoming year.
Specifically, the first four contracts signed pertain to T4 apartments, which were sold at prices ranging between 96,000 and 125,000 euros. These properties are located on Rua António Henrique Cabrita in the Quelfes parish. In total, the first phase includes the allocation of 26 T2 apartments, 18 T3 apartments, and 10 T4 apartments, summing up to 54 homes across three blocks.
This project doesn't just stop at the initial phase. A subsequent phase plans for the construction of an additional 288 housing units and 30 commercial spaces on the grounds of the former Litografia, located on Avenida Sporting Clube Olhanense.
Market Statistics and Trends
: As of September 2023, the price per square meter in Olhão stands at €2,713, marking a 13% increase compared to September 2022. The city saw a slight dip of 0.2% from August 2023 but has shown an overall positive trajectory over the past year. Different parishes within Olhão have their unique price dynamics:
Moncarapacho e Fuseta: €2,745/m2, a decrease of 4.5% from its historical high in May 2023.
Olhão (specific region): €2,852/m2, a decrease of 2.1% from July 2023.
Pechão: €2,160/m2, marking a significant drop of 21.8% from its peak in October 2022.
Quelfes: €2,701/m2, which is its highest recorded price as of September 2023.
Infrastructure Developments
: On the infrastructure front, a significant project is the Variante to Olhão on the EN125. The minister, João Galamba, recently signed an ordinance allowing for the project's commencement. With the launch of this project, there are anticipations of machines being on the ground by 2024. This development is viewed as paramount, especially since it benefits from the financing of the Plano de Recuperação e Resiliência.
Emerging Markets and Future Prospects
: Beyond well-established cities, emerging markets in Portugal, including areas around Olhão, are gaining traction due to their more affordable prices and growth potential. These regions present opportunities for investors looking for long-term returns. Given these dynamics, the real estate market in Olhão and its surroundings is projected to remain promising for 2024, characterized by sustained demand, diversification in property types, a focus on sustainability, technological adoption, and the rise of emerging markets.
Olhão's real estate market reflects the city's blend of tradition and modernity. With the local government's initiatives and the city's intrinsic appeal, Olhão continues to be a prime destination for both real estate investors and those seeking a picturesque place to call home.
In navigating the vibrant real estate landscape of Olhão, UrbaMarkt stands ready to guide you. We invite you to
explore your real estate options with us
and uncover the potential that Olhão has to offer.
Additionally, for a more comprehensive understanding of the market dynamics and insights from various regions, you might find these articles particularly enlightening:
Cascais: The Charming Seaside Retreat (urbamarkt.com)
Leiria, Portugal: A Tapestry of Heritage & Contemporary Charm (urbamarkt.com)
Porto: Cultural, Mystical & Unvanquished (urbamarkt.com)
---
Promote your business in the domestic and international market
UrbaMarkt is an international marketing portal dedicated to bringing national and international buyers together with local professionals, increasing the possibilities of exposing their products and experiences to customers anywhere in the world.

---